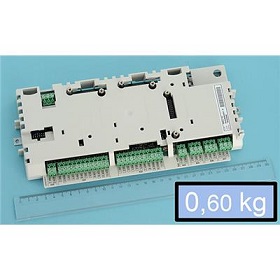 3AUA0000036521 RDCU-12C
update£º2019-01-19 01:05 Click£ºtimes
brand

model

describe

3AUA0000036521 General Information Product ID: 3AUA0000036521 ABB Type Designation: RDCU-12C Catalog Description: RDCU-12C; CONTROL UNIT Categories Parts Services Drives Low voltage AC drives Industrial drives ACS800 drive modules ACS800-0
introduce
3AUA0000036521
General Information
Product ID:

3AUA0000036521

ABB Type Designation:

RDCU-12C

Catalog Description:

RDCU-12C; CONTROL UNIT
Categories
Parts & Services » Drives » Low voltage AC drives » Industrial drives » ACS800 drive modules » ACS800-04 - Single drive module
Parts & Services » Drives » Low voltage AC drives » Industrial drives » ACS800 drive modules » ACS800-04M - Single drive module
Parts & Services » Drives » Low voltage AC drives » Industrial drives » ACS800 drive modules » ACS800-U4 - Single drive module (US)
Parts & Services » Drives » Low voltage AC drives » Industrial drives » ACS800 multidrives » ACS800-107 - Drive unit
Parts & Services » Drives » Low voltage AC drives » Industrial drives » ACS800 single drives » ACS800-02 - Free-standing 6-pulse drive
Country of Origin:

Finland (FI)
China (CN)
Estonia (EE)
India (IN)

Customs Tariff Number:

85049099

Invoice Description:

CONTROL UNIT

Made To Order:

No

Minimum Order Quantity:

1 piece

Part Type:

New

Quote Only:

No

Selling Unit of Measure:

piece

Stocked At (Warehouses):

FIPSEEXPU
US Drive Services
SGRDC002EXPU
CNIAB001EXPU
SGIND002EXPU
AUABB024EXPU
INABB010EXPU
Dimensions
Product Net Weight:

0.6

kg
Technical
Technical Information:

COATED
PLEASE NOTE THAT THE APPLICATION SOFTWARE IS NOT INCLUDED!
BEFORE THE BOARD CAN BE USED AS A SPARE
PART, YOU NEED SW
TO BE LOADED INTO THIS BOARD. SW TO BE ORDERED SEPARATELY.
Information, which RMIO types each loading package supports,
can be found from Software compatibility table in LV AC
Drives In-House Maintenance (IHMM)
Manual/ACS800/Software/General
Information/00191877_DM.XLS.
Additional Information
Product Name:

CONTROL UNIT
ÉÏһƪ£ºDriveConfig kit RFDT-02
ÏÂһƪ£ºBranching unit kit APBU-44C 2X
more